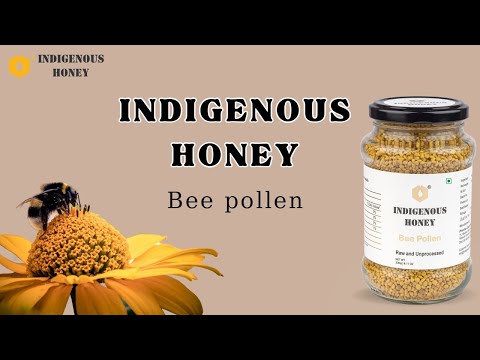 Pure Natural Organic Bee Pollen sourced from beehive 230 g
---
Package content: 1 Organic natural bee pollen; Quantity: 230 g; Shelf life: 365 days


Pure bee pollen is sourced from beehives.
Natural bee pollen is collected by the cruelty-free method of beekeeping.
We often migrate our beehives to a different source of flowers for extraction of honey so we find different organic pollen as a by-product.
Use full for the treatment of bone disease. A full pack of vitamins, protein, and enzymes.

"Bee pollen of honeybees is an amazing creation of the world. The honeybee is the finest insect created by nature. The only source of their food is a flower. The flower is the only kitchen where they complete all their need. From the nectar of the flower, they fulfilled their need for carbohydrates and from the natural bee pollen, they complete their need for protein, fat, and other vitamins. Due to the curiosity of mankind, we found that not only honey is a food product from beehives but organic pollen is also another useful by-product. In the third pair of legs of the honeybee, there are two bags known as a pure pollen basket. A honeybee collects organic raw natural pollen from the flower while pollination and carries it back to the hive where it stores in the colony in a separate cell area. By the use of a pollen trapper, we can collect this bee pollen without damaging or hurting any honey bee before they put it in a cell area. We are beekeepers so we are often migrating our beehives as per the seasons of the flowers throughout the year. Due to this way, we also get a different kind of floral organic fresh bee pollen also. These different kinds of pollen have different kinds of nutritional value also. Natural bee pollen contains tocopherol, niacin, thiamine, biotin, folic acid, polyphenols, carotenoid pigments, phytosterols, enzymes, and co-enzymes. Organic natural pure bee pollen is said to enhance energy, sharpen memory, slow the aging process, promote weight loss, and improve athletic performance. Pure natural bee pollen is useful for the treatment of hard diseases like acne, arthritis, asthma, eczema, and osteoporosis."