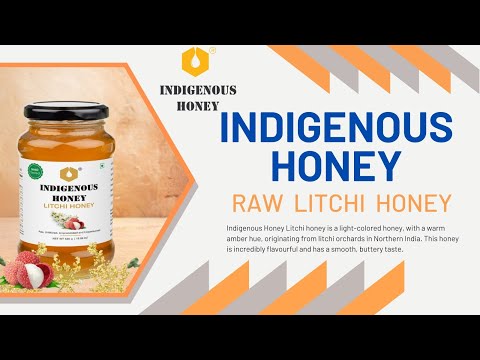 Golden and Tangy Raw Litchi Honey
---


Package Content: 1 Raw Litchi Honey; Quantity: 530 g; Shelf Life: 547 Days
Indigenous Honey Litchi honey is a light-colored honey, with a warm amber hue, originating from litchi orchards in Northern India. This honey is incredibly flavorful and has a smooth, buttery taste. Enjoy this unfiltered honey as a substitute for sugar in drinks, on warm toast, or in your favourite desserts.
Honeybees obtain nectar from litchi flowers and produce honey. This honey is incredibly nutritious and has a lot of medicinal qualities. It is filled with natural antioxidants, pollen, enzymes, vitamins, and minerals. We ensure that nothing is extracted from our raw honey and no sugar from sugarcane, corn, or any other source is added.
Indigenous Honey provides consumers with 100% pure and natural honey that has never been filtered or pasteurized. This honey has also been NMR tested guaranteeing that it is both flavourful and healthy.
Begin your day with authentic Litchi honey. Add one tablespoon of this honey to a glass of water or you can use it with deserts and toasts.
Indigenous Litchi Honey is a clear golden honey, harvested from litchi gardens in Northern India. It has a delightful flavor and a delicate, creamy texture. Use it instead of sugar in drinks, spread it on warm bread, or add it to your favourite desserts. It is widely assumed that raw honey, which has not gone through any kind of processing or pasteurizing, is more beneficial for one's health than honey that has been treated in some way. Indigenous Honey guarantees that its Litchi Honey is pure, unprocessed, and of superior quality. The Indigenous Honey Litchi Honey is an excellent combination of both health benefits and great taste. It has been NMR-verified for purity, being completely natural and unrefined. This honey is a fantastic addition to your diet, providing you with antioxidants and essential nutrients. Unprocessed honey can be a beneficial supplement for both adults and children. It is known for its nourishing and healing characteristics. By ingesting raw honey daily, you may experience a variety of advantages, including an enhanced immune system, improved metabolism, cholesterol reduction, decreased acidity, improved overall health, and enhanced skin quality. Start your day with genuine Litchi honey. Put a tablespoon of Indigenous Honey's Litchi Honey, in a cup of water, or you could incorporate it with pastries and slices of toast. You will receive 530 grams of Indigenous Honey Raw Litchi Honey in a glass jar (pack of 1).