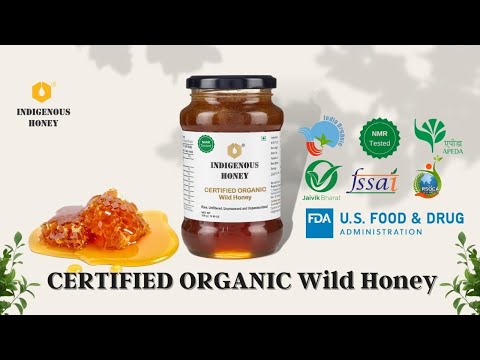 Certified Organic Wild Honey
---
Package Content: 1 Raw organic honey; Quantity: 530 g; Shelf Life: 547 Days.

We do all kinds of laboratory tests for each and every batch/lot of Indigenous honey.
We test all parameters recommended by fssai (Food Safety and Standard Authority of India), and all international standards for honey such as the test for antibiotics, heavy metals, SMR (Specific Marker for Rice syrup), TMR(Trace marker for Rice syrup), and NMR(Nuclear magnetic resonance).
This is not for only marketing or advertisement purposes. Every individual consumer can cross-verify lab reports and certificates for their received honey jar.
With every jar of honey, there is an attached lab report which will prove the authenticity of our own produced honey.
By scanning the QR code on the jar you will receive all the information regarding that batch.
We are also requesting you to cross-verify with the lab also. 
We are certified organic by the recognized certification body from APEDA.
We sell only what we harvest. Honey is harvested from our honeybee hives without hurting or damaging any honeybee. 
As we do not heat or process our honey so Indigenous honey is 100 % raw and unprocessed.

It is unfiltered honey means you may find a trace of beeswax and pollen in the honey.
Raw honey contains pollen and beeswax particle which has numerous medicinal supplements like enzymes, vitamins, and antioxidants.

We only select the farm where crops are grown organically, honey collected from that farm field is organic and natural.

As per Ayurveda honey has lots of health benefits such as it is the best as an immunity booster, weight management, digestion management, cold and cough, eyes and heart, smooth glowing skin, etc.