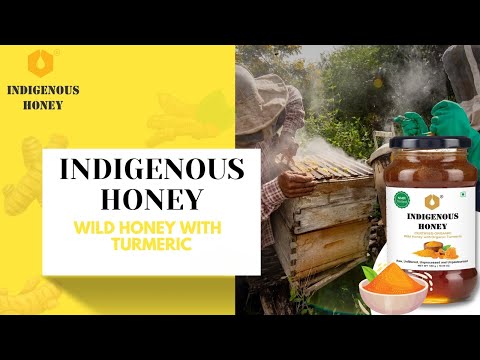 Raw Organic Honey with infused Turmeric
Description
Product specification
Start your day off right with INDIGENOUS HONEY raw and organic honey infused with turmeric's health advantages.
Our honey is NMR-tested and NPOP-certified organic. We've mixed turmeric into the honey to ensure both flavour and health.
The mixture of pure, natural, and unprocessed Indigenous Honey and the goodness of turmeric gives this honey a burst of health benefits.
Start your day off with a spoon of this honey, which has been mixed with organic turmeric to boost your immune system. If you're health-conscious, this is a perfect choice.
Our Indigenous Certified Raw Organic Wild Honey is the perfect combination of health and flavour. The honey has been mixed with turmeric to give it a delicious flavour, which will also provide you with a host of health benefits. The honey is NMR-tested and NPOP certified organic, which proves that it is pure, natural, and unprocessed. This honey is a wonderful addition to your diet, providing you with a healthy source of nutrients. Raw natural and original honey can help maintain optimal health in both adults and children. It is a powerful health supplement thanks to its high nutrition and curative properties. By taking our raw honey with goodness of turmeric every day, you can boost your immunity, improve your health, and improve your skin quality, just to name a few of its benefits. It becomes even more powerful when Indigenous Honey is combined with turmeric, making it a health supplement. This is worth of giving a try in your daily diet. The main active ingredient in turmeric is curcumin, a polyphenol with over 150 therapeutic benefits. Manganese and iron are just two of the many therapeutic advantages of this food. It is a natural alternative to conventional medicine. There are no artificial colours, flavours, or additives in Indigenous Honey, a 100% pure and natural blend of organic turmeric in raw, organic honey. It is also unfiltered, unheated, and unpasteurized. You will receive 530 grams of Indigenous Honey Certified Organic Wild Honey with Organic Turmeric in a glass jar (pack of 1).
Ingredient
Organic Wild Honey
(99.9%), Turmeric Powder(0.1%)
Manufactured and Marketed by
Turritopsis Private Limited Survey no 343 2 and 343 4, Plot no 11, Madhav park industrial area Tativela, Opp Podar international school Veraval Somnath bypass road, Veraval, Gir Somnath, Gujarat, 362266, India. Customer Care +91 96647 98492
MRP ₹ ; USP ₹ (INCL. OF ALL TAXES)
Storage Instructions
Store in a cool & dry place. It is natural for pure honey to crystallize. To return it to liquid state, simply place the jar under sunlight.
Instructions For Use
Honey can be mixed with milk or warm water or used as a delightful topping.
Cautions
Raw honey isn't for the children younger than one year. Honey contains naturally occurring sugars, not to be consumed by diabetic patients.
Allergen Information
All raw honey contain pollens. Allergic reactions to raw honey have
also been reported in rare individuals who are allergic to pollen.
Packed in a facility that processes peanuts.
CUSTOMER CARE DETAILS
CUSTOMER RELATIONSHIP MANAGER
TURRITOPSIS PVT. LTD.
ADDRESS : P. O. BOX NO. 17, VERAVAL-362265
MOBILE NUMBER : +91 9664798492
E-MAIL : info@indigenoushoney.com
Trademark Information
INDIGENOUS HONEY is ®Reg. Trademark of Turritopsis Private Limited.
Natural Nutritional Profile of Indigenous Honey
Nutritional Information
25 Servings Per Container (Approximate Values)
Serving size 1 Tbsp(21 g)
Amount per 100 g %RDA per serve*

* Nutritional Information is per 100 g and value in
percentage is %RDAPer Serve. Recommended
Dietary Allowance is on the basis of 2000 kcal
diet for an average adult per day.
This product has no reviews yet.